Home Sales are Increasing in all regions in 2016
By Mike Dunn | MutualFundDirectory.org |8/23/16
Home sales in all four regions are up in year over year comparisons. The Census Bureau released data comparing housing data of sold homes. Looking at overall US data comparing July 2015 to  July 2016 the number of sold houses went from 498,000 homes to 654,000 with a 31.3% increase.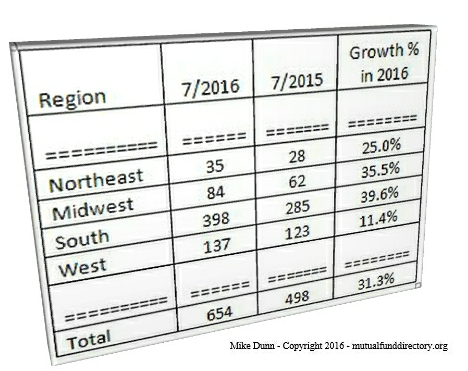 Houses Sold by Region in 2016
The South led the country in both gross number sales and percentage increase topping the total with 398,000 houses sold in July 2016 and a 39.4% increase over 2015. The West had the 2nd largest amount of sales but the lowest percentage increase with just 11.4%. The Midwest was close behind the Southern US in percentage growth with 35.5%. Followed by the Northeast with 25% growth and the least number of home sales with 35,000.
Interest Rates for 2017
There are many geopolitical moving parts influencing interest rates but the housing sector is growing fast. The percentage increase in houses sold will be a factor in interest rate hikes by the Federal Reserve but other lagging GDP (Gross Domestic Product) factors may mitigate any significant interest rate hikes in the fourth quarter of  2016 and in 2017.
Source: http://www.census.gov/construction/nrs/index.html